Set It Down Movement
We believe in having a screen life balance. Set It Down motivates individuals to set down their screens so that they can live a more fulfilled life. We offer fun screen-free activities, screen time trackers, and self-care products. Need advice on how to stop doomscrolling? We got you. Let's unplug and be more present.
FREE Screen Life Balance Worksheet and Checklist
Many of us are feeling like we need to lessen our screen time and fully disconnect from tech. While we love unplugging, screens are everywhere. Instead of fully going offline, consider working on a better screen life balance.
Our FREE Screen Life Balance Worksheet and Screen Time Checklist has helped many adults and families have better relationships with their technology. Download it now!
DOWNLOAD HERE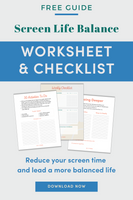 90% of Americans believe they have a smartphone addiction.

KDA engineering
Americans now check their phones 96 times a day – that's once every 10 minutes

Asurion
Millennials spend on average 5.7 hours on their screens each day. 

Provision Living